SEVENS PREPARATION
By Coach Gordon Tietjens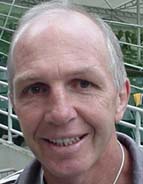 Gordon Tietjiens

My three key principles of coaching Sevens is support play, depth and use of width of the field.

In Sevens everything revolves around general play, so you need players who have speed and who are superbly fit. It is important that you share the physical workload across the team so that every team member is fit enough to contribute, particularly off the ball. I am very demanding on fitness and generally I'll train players in a fatigue state as I put a huge emphasis on players working off the ball.

As a coach you have to know the fitness levels of your players so testing is critical and I encourage players to get in shape as I want them to know that I have confidence in them to perform. I've seen teams that have been beaten mentally before they even take the track because they don't have the fitness base to really compete.

You need to encourage support play both with and .without the ball as you need players who will really make the defense work and create holes for the ball carrier. I encourage coaches to base their training on how they want to play the game and obviously that will depend on the type of players that they have available to them. You also have to be able to identify what you want with your team and coaches need an ability to analyze the opposition and really look at the teams that you are playing, things tike seeing who the steppers are, where the speed is, and what type of player the opposition are using.

Nowadays Sevens is more confrontational and a lot more strength is required, so look to see how the big players are being used and how much speed they have on attack and defense. Look hard at teams defense as in my experience the teams that win tournaments are the ones that can turn defense into attack. Since I took over the New Zealand team in 1994 we have played with a sweeper at the back.

This is the defense I support as it enables the team to run good defensive systems and have accountability in terms of who's responsible for what on defense.

The type of defense use during a game is normally determined by the defender on the ball carrier as if he is up and in their face then the rest of the defense can come up and reduce the amount of time and space available to the opposition.

The sweeper, who is in a fullback position has a job to shadow the ball and hold up the attack so that the defensive team can get back and regroup. The rule of thumb is the quicker the sweeper, the deeper he can stand. This is why on attack if a break is made you have to try to get the ball to your speed as quickly as possible as the goal is not to give the defensive side time to reorganize their defense.

The area that most teams can improve on is getting support players into the pocket and make sure that there is depth in support to ensure continuity in the attack.

Coaches should develop drills so that the team concentrate on getting players in the pocket. Once players have made the pass then they should drop as they need to ensure that their support realign off the guy in the pocket. On a turnover the sweeper can become the realignment line so you need players who can get back quickly in depth to support an attack. I'm not keen on chip kicks as posession is critical and long kicks are okay as long as there is pressure on the kick.

In terms of player selection you need to identify players with skill, vision and pace and speed and fitness are a big part of a successful team. In a ten man squad, I normally select a four forward, six back split as I'll generally go for extra pace. I look for speed endurance, players who can sprint for sustained periods of play. I also look for consistency of performance throughout a tournament as you need players with both the physical and natural ability to perform over a two to three day period. If you go for speed and select backs to play in the forwards, they have to get used to the physical nature of the forward play especially scrummaging and it may take time for the player to adjust. The inside pairing of halfback and playmaker are important selections as they need to be none stop runners who can create play. Everyone has to be able to defend and to find the type of players required I suggest coaches have a good look around.

For example I'll have a look at Touch Rugby tournaments where I can identify players who have sufficient skills to be a very good Sevens players.

The bottom line is that you have to be prepared to help players develop and if players really want to make the grade then they have to make a commitment and be prepared to change their lifestyles to make it. I'm keen to see all provincial coaches promote sevens and for the sevens coaches to have good communication with their provincial XV coaches to help in the identification and development of players within their regions.
---
Gordon Tietjens lives in Tauranga and is currently coach of the Bay of Plenty NPC Team, a side that he played for with distinction from 1977 to 1987, clocking up a total of 78 games. He has also coached the NZ Sevens team since 1994 and can be contacted on (07) 576 5589 or mobile 025 903 868.
---


Copyright 1999-2022